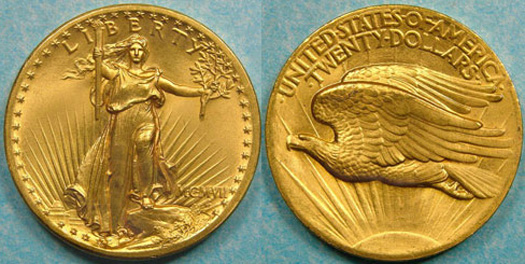 Following the experiments with ultra high relief, a second set of dies featuring Augustus Saint Gaudens' new design for the double eagle were prepared with the relief reduced. After some delay, the Mint would eventually strike 12,367 of the 1907 High Relief Saint Gaudens Double Eagles. While these pieces are not extremely rare, they much sought after and highly prized by collectors for their beautiful presentation of the artist's designs.
The coins were produced at the direct insistence of President Theodore Roosevelt. Augustus Saint-Gaudens had died on August 3, 1907, leading Roosevelt to set a deadline of September 1 for the Mint to place the new double eagle into circulation. The chief engraver of the Mint continued to stall, citing the relief of the coin and the multiple strikes needed to bring up the design. Finally, on November 18, Roosevelt ordered the second set of dies to be used to being production immediately "even if it takes you all day to strike one piece!"
It took three to five strikes to bring out the full design in high relief. The Mint Director put every medal press at the Philadelphia Mint into operation and used additional workers to run the presses day and night. The effort was worth it as the President was pleased with the result, calling it "the best coin that has been struck for two thousand years." He further stated, "It will serve as a model for future coin makers." In a more contemporary account, Walter Brenn called it ""the finest American coin design ever to reach circulation."
Flat rim and wire rim varieties are encountered for the 1907 High Relief Double Eagle. These were the result of different collars used in the minting process. If the collar was loose, the extra metal would be forced between the collar and dies, creating a wire rim. The flat rim is noted as being slightly scarcer, although both varieties carry similar values.
Today, the coins remain relatively available since such a large number were saved at the time of release. It is estimated that four or five thousand pieces survive, with the majority in mint state grades.
The finest known 1907 High Relief Saint Gaudens Double Eagle is graded PCGS MS69 and has been verified by CAC. The coin sold in November 2005 for $575,000, but was subsequently sold for $546,250 in January 2007, and $517,500 in March 2008.