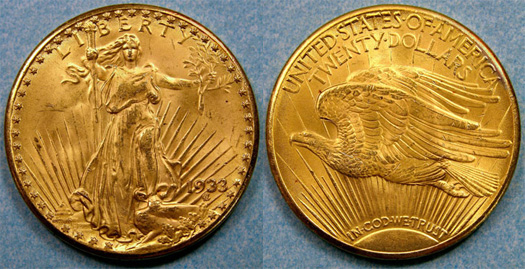 Enigmatic, famous and extremely rare, the 1933 Saint Gaudens Double Eagle is an issue well known to collectors and non-collectors alike. Although there was a sizable mintage of 445,000 pieces, all pieces were supposed to be melted following Franklin Roosevelt's presidential order on March 6, 1933 to recall federal gold. Any coins that managed to escape into the hands of collectors were considered illegal since they had never been officially issued.
In 1944, one of the 1933 Double Eagles was sold privately for the collection of King Farouk of Egypt. An export licensee was requested and inadvertently granted by the Treasury Department, since they did not realize the significance of the date. Thus, one example of the coin was legally exported out of the United States.
More than six decades later, a 1933 Saint Gaudens Double Eagle believed to be the Farouk specimen was seized by the Secret Service. After five years of legal proceedings, the United States Treasury agreed to auction the coin in return for half of the proceeds. In July 2002, the coin realized $7,590,000 at an auction conducted by Soetheby's and Stack's. The anonymous bidder was also required to pay twenty dollars to officially "issue" the coin. For several years this represented a world record for the highest price ever paid for a coin, until a 1794 Silver Dollar sold for $7,850,000 in 2010.
Ten more 1933 Saint Gaudens Double Eagles surfaced in 2003 when the descendants of coin dealer Israel Switt discovered the coins in a safe deposit box. The coins were provided to the US Mint for authentication, but the Mint refused to return the coins or initiate forfeiture proceedings. The ensuing trial Langbord v. U.S. Department of Treasury was decided in favor of the government.


1933 Double Eagle Specifications
Designer: Augustus Saint Gaudens
Composition: 90% gold, 10% copper
Weight: 33.436 grams
Diameter: 34 mm
Mints: Philadelphia, San Francisco
1933 Double Eagle Mintages
Image: Smithsonian Institution