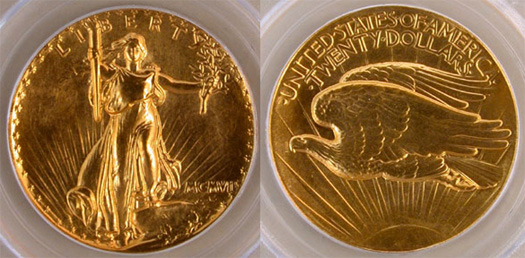 In their initial discussions of the new design for the double eagle, both President Theodore Roosevelt and Augustus Saint-Gaudens agreed that the design should be done in high relief, like the gold coins of ancient Greece. Ultimately, the technology available at the time did not allow the coins to be mass produced in this fashion. As an experiment, 24 pieces were struck in extremely or ultra high relief following the artists models.
The 1907 Ultra High Relief Double Eagle patterns are a stunning presentation of the Saint-Gaudens design. Lady Liberty appears striding powerfully forward, dressed in a flowing robe, with a torch and olive branch in hand. The United States Capitol dome and the rising sun are in the background to symbolize that through democracy, America has achieved Liberty. Stars surround the image, representing the 46 states in the union at the time of issue. The date is expressed in Roman numerals as "MCMVII" to convey a classical look.
On the reverse of the coin is a depiction of a youthful eagle soaring majestically against the rising sun. This representation was symbolic of America, young and strong in its ascendancy, with a bright future ahead. The inscriptions above read "United States of America" and "Twenty Dollars". The motto "E Pluribus Unum" appears on the edge of the coin with stars in between the letters.
Although unquestioningly beautiful, the experimental pieces were difficult to produce. Even with the Mint's medal press set for maximum pressure, it still took seven to nine strikes to bring up the full design. The relief was subsequently lowered to produce more than 12,000 of the 1907 High Relief Double Eagles. Ultimately, the relief was lowered again, with the final modifications to the design performed by Charles Barber. It was this final version that would be mass produced for circulation.
An estimated 16 to 18 examples of the 1907 Ultra High Relief Double Eagle are believed to exist. These experimental pieces are absolute treasures that combine art and numismatics in an exceptionally beautiful manner that can be appreciated by collectors and non-collectors. Walter Breen stated that "only these faithfully represent Saint-Gaudens' conception, cherished as the stunning climax of American coin design."
The finest known example has been graded Proof-69 by both NGC and PCGS, with the coin currently residing in a PCGS holder. The specimen sold at a public auction in 2005 for $2,990,000. In 2007, the coin changed hands again through a private treaty sale. Although the price was not disclosed, it was indicated to be substantially more than $3 million.