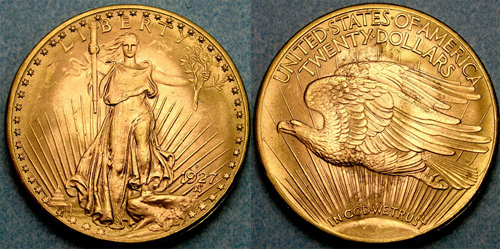 The 1927-D Saint Gaudens Double Eagle has come to be recognized as one of the major rarities of the 20th century and ranks as one of the rarest coins for the entire double eagle denomination. Despite the reported mintage of 180,000 pieces, virtually this entire amount was melted, leaving an estimated twelve surviving specimens.
This issue was not always viewed as such an extreme rarity. Collectors had previously believed other issues such as the 1924-D and 1926-D to be far more scarce, however over time small hoards or accumulations of these coins were discovered increasing their availability. No significant discoveries of the 1927-D double eagle ever took place, keeping the total number of specimens available extremely low.
Traditionally, the 1933 Saint Gaudens Double Eagle has been considered the rarest coin of the series, with only one example legal for private ownership. Depending the outcome of ongoing legislation involving ten more 1933 double eagles, the 1927-D may become the rarest date of the series in terms of the number of coins available for private ownership.
The finest known example of the 1927-D double eagle is graded MS67 by PCGS. This coin sold at auction in November 2005 for $1,897,500. More recently, an example graded PCGS MS66 sold for $1,495,000 in January 2010.
The Smithsonian Institution's National Numismatic Collection currently holds three examples of the 1927-D Double Eagle.


1927-D Double Eagle Specifications and Mintage
Designer: Augustus Saint Gaudens
Composition: 90% gold, 10% copper
Weight: 33.436 grams
Diameter: 34 mm
Mintage: 180,000 (estimated 12-15 still exist)
Image: Smithsonian Institution