The 1907 Saint Gaudens Double Eagle (Buy on eBay) was the first year of issue for the newly designed $20 gold coin. The obverse featured the allegorical figure Liberty striding confidently forward holding a lit torch and olive branch with the rays of the sun behind. The reverse depicted an eagle in flight with the rays of the sun extending upwards. This design by Augustus Saint Gaudens is widely considered to be one of the most beautiful to ever grace a United States coin.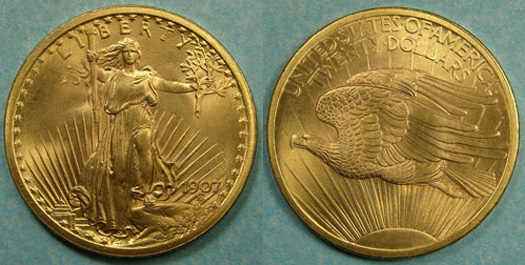 As production began, efforts were made to strike the coins as the artist in a method resembling what the artist had intended. A handful of pattern coins were struck in ultra high relief as an experiment. This was followed by limited production of the high relief versions for circulation. These pieces were immediately prized by collectors, who were willing to pay $30 per coin within a few weeks of release. President Roosevelt, who had undertaken the redesign of the coin as his "pet crime", was also extremely pleased with the result.
Despite the beauty of the high relief version, it was difficult to produce and would not be easy to hand in commerce. The Chief Engraver of the United States Mint Charles Barber created a lower relief version of Saint-Gauden's design. He would also change the date from Roman to Arabic numerals. The mintage for the low relief coin with Arabic numerals was 361,667. This version is obviously the most accessible for collectors today, easily obtained even in gem grades.
1907 Double Eagle Specifications
Designer: Augustus Saint Gaudens
Composition: 90% gold, 10% copper
Weight: 33.436 grams
Diameter: 34 mm
Mints: Philadelphia
1907 Double Eagle Mintages
MCMVII (1907) High Relief: 12,367
1907 Arabic Numerals: 361,667
Image: Smithsonian Institution