The 1907 Ultra High Relief Double Eagle (Buy on eBay) is lauded as both a historical rarity and a work of art. A small number of these coins were struck as patterns or experimental pieces to test the design and feasibility of production. The extremely high relief provides the coins with a stunning sculptural appearance and represents the most faithful representation of the designer's vision.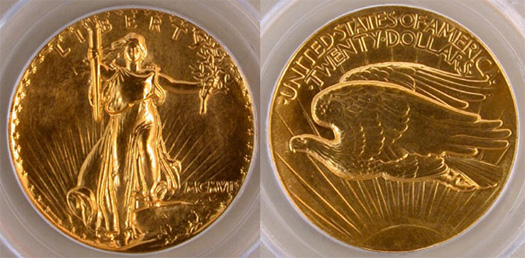 It is believed that approximately 22 ultra high relief coins were struck in three groups, which can be differentiated by the style of the edge lettering. The first group of coins were struck in February 1907 and featured experimental edge lettering with stars placed between each letter of the motto E PLURIBUS UNUM. One of the pieces from this group has a plain edge since the die had broken before the last strike could apply the edge lettering. The second group of coins were struck between March and July 1907 and show stars between each of the words in the motto. The third and final group of coins was struck in December 1907 and carry inverted edge lettering, with the letters appearing upright from the reverse of the coin.
Although unquestionably beautiful, the experimental pieces were extremely difficult to produce. Even with the Mint's medal press set for maximum pressure, it took seven to nine strikes to bring up the full design. Following Augustus Saint-Gaudens's death on August 3, 1907, President Roosevelt grew impatient and ordered the coins to be struck and released into circulation within a very short timeframe. In order to fulfill this request, the relief would be lowered to create a limited number of high relief pieces and lowered again for mass production.
There are an estimated 16 to 18 surviving examples of the 1907 Ultra High Relief Double Eagle. All were minted as proofs and handled with great care since their original production. As a result, most of the known examples are in gem quality or finer. The absolute finest known piece is graded an immaculate PCGS MS-69 and last sold for $2,760,000 at auction in 2012. Regardless of the grade, all survivors represent absolute treasures that combine art and numismatics in its highest and most beautiful form.