The 1915 Saint Gaudens Double Eagle (Buy on eBay) features a full figure depiction of Liberty as she strides confidently forward while holding a lit torch and olive branch. Forty eight stars surround with the U.S. Capitol building and the background and the rays of the rising sun filling the fields. The reverse of the coin features an eagle in flight amidst the rays of the sun with the motto "In God We Trust".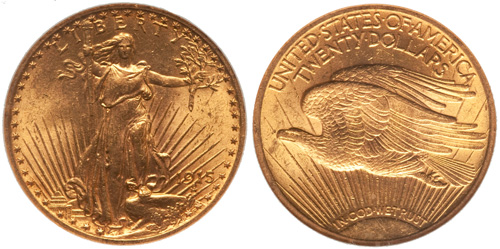 This year coins were struck at the Philadelphia and San Francisco Mint. Similar to the prior year, the Philadelphia issue is less available, particularly for coins graded MS65, with only one example graded MS66 by NGC. The 1915 Double Eagles struck at San Francisco are much more abundant with more than 27,000 pieces graded by PCGS and NGC. Coins are available in grades through MS66 without much difficulty.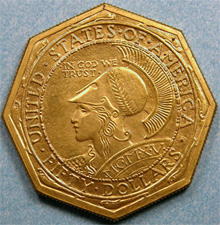 The last regular issue proof coins were struck at the Philadelphia Mint this year, with a mintage of just 50 pieces. This represented the lowest proof mintage for the series, excluding the 1921 double eagle proof special striking.
As a side note, this year the United States Mint issued the most famous of the early gold commemorative coins. The 1915 Panama Pacific Exposition $50 gold piece was struck in San Francisco and offered during the international exposition.
The coins carried the high fifty dollar denomination and were available in either round or octagonal format. Because of the high cost of purchase, only 483 of the round and 645 of the octagonal versions were sold, making them a trophy coin for modern collectors.
1915 Double Eagle Specifications
Designer: Augustus Saint Gaudens
Composition: 90% gold, 10% copper
Weight: 33.436 grams
Diameter: 34 mm
Mints: Philadelphia, San Francisco
1915 Double Eagle Mintages
1915: 152,000
1915-S: 567,500
1915 Proof: 50