As the second year of issue, the 1908 Saint Gaudens Double Eagle (Buy on eBay) was minted in much larger quantities and underwent one final design modification. The coins were also produced at three different mint facilities this year, Philadelphia, Denver, and San Francisco.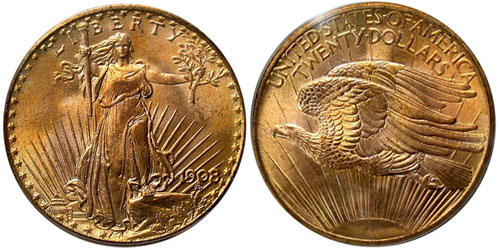 At the start of production, the 1908 Double Eagle did not include the motto "In God We Trust", as had also been the case in the previous year. The omission of the motto was at the request of President Theodore Roosevelt who felt that its inclusion on money was a debasement to God's name. The public felt differently and their outcry led Congress to pass an Act requiring the inclusion of the motto on the double eagle.
The motto was added by Chief Engraver Charles Barber effective from August 1, 1908, resulting in 1908 Double Eagles with or without the motto. When adding the motto, some slight modifications were also made to the lettering and rays.
The "no motto" 1908 Saint Gaudens Double Eagle represents one of the most common coins of the series. A large number of survivors exist in high grades as a result of the discovery and dispersal of a hoard of nearly 20,000 examples. These coins, which came to be identified as the "Wells Fargo Hoard" included a number of pieces that were graded PCGS MS69.
The 1908-S Saint Gaudens Double Eagle had a mintage of only 22,000, all of these coins were minted with the "In God We Trust" motto. This represents the lowest mintage for any individual issue of the series, besides the 1907 High Relief. Despite the low mintage, the 1908-S is not the rarest coin of the series due to the impacts of melting on some other issues.
1908 Double Eagle Specifications
Designer: Augustus Saint Gaudens
Composition: 90% gold, 10% copper
Weight: 33.436 grams
Diameter: 34 mm
Mints: Philadelphia, Denver, San Francisco
1908 Double Eagle Mintages
1908, No Motto: 4,271,551
1908-D, No Motto: 663,750
1908, With Motto: 156,258
1908-D, With Motto: 349,500
1908-S: 22,000