The 1932 Saint Gaudens Double Eagle (Buy on eBay) represents the final issue of the series that is generally available for most collectors. Although coins were struck at the Philadelphia Mint in the following year, they were never officially released into circulation.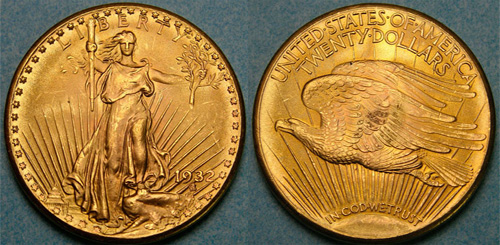 Similar to the issues of the previous three years, the 1932 Double Eagle is a rarity due to fact that the majority of the coins produced were melted. Of the original mintage of 1,101,750 pieces, it is believed that only 110 were officially released by the Philadelphia Mint. The number of specimens surviving today is even lower, with estimates ranging from 60 to 95 pieces.
The vast majority of 1932 Double Eagles are in uncirculated grades, with PCGS and NGC population reports showing most graded in the MS62 to MS66 range. The example residing within the Smithsonian Institution's collection is estimated to grade MS67, making it the finest known.
Over the past few years, auction prices for this issue graded MS66 have ranged from $126,500 to $161,000. Population reports show this grade awarded 19 times, although the number resulting from resubmissions is not known.
1932 Double Eagle Specifications
Designer: Augustus Saint Gaudens
Composition: 90% gold, 10% copper
Weight: 33.436 grams
Diameter: 34 mm
Mints: Philadelphia
1932 Double Eagle Mintage
Image: Smithsonian Institution