An small design change for the series occurred on the 1912 Saint Gaudens Double Eagle (Buy on eBay). As the states of New Mexico and Arizona were admitted to the United States during the year, the number of stars on the obverse was increased from 46 to 48. The two additional stars were added below the date, with the existing stars remaining in the original positions.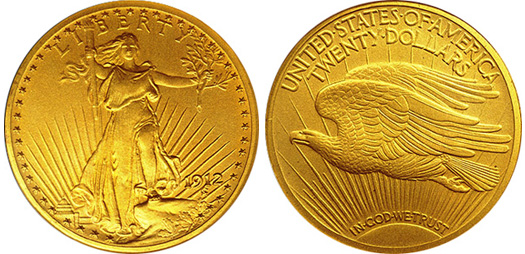 This year, only the Philadelphia Mint struck the double eagle denomination in relatively small numbers. This resulted in the lowest annual production for the series to date, which would remain the case until the very end of the series. Proof coins were also struck at Philadelphia with a reported mintage of just 74 coins.
The 1912 Double Eagle graded MS65 or higher can be difficult to locate. The highest graded examples are less than 10 examples graded MS66 by PCGS and NGC. One of these pieces graded by PCGS and verified by CAC sold for $74,750 at auction in July 2008.
1912 Double Eagle Specifications
Designer: Augustus Saint Gaudens
Composition: 90% gold, 10% copper
Weight: 33.436 grams
Diameter: 34 mm
Mints: Philadelphia
1912 Double Eagle Mintages
1912: 149,750
1912 Proof: 74