Beginning with the 1929 Saint Gaudens Double Eagle (Buy on eBay), the series takes on a much different character. Mintage levels for this and subsequent issues fluctuated from a low of 74,000 for the 1930-S to highs in the millions, however regardless of the original mintages, the mass meltings after the recall of gold coinage result in very few surviving specimens. Accordingly, all double eagles from 1929 to 1933 are rare and command large premiums.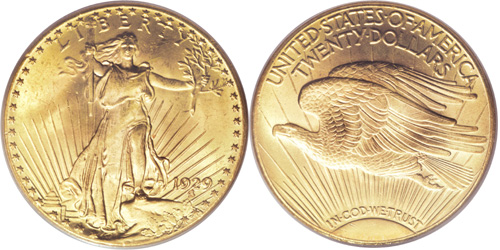 The major grading services PCGS and NGC show just over 300 of the 1929 double eagles graded, although this is no doubt inflated by resubmissions. The bulk of grades occur at the MS64 grade level. The top graded examples are a handful graded MS66 across the two services.
The last 1929 Saint Gaudens Double Eagle graded PCGS MS66 to sell at auction realized $115,000 in April 2009. An earlier sale, which took place in September 2008, realized $184,000 for a piece of the same grade, but carrying a CAC verification sticker.
1929 Double Eagle Specifications
Designer: Augustus Saint Gaudens
Composition: 90% gold, 10% copper
Weight: 33.436 grams
Diameter: 34 mm
Mints: Philadelphia
1929 Double Eagle Mintage
Image: Heritage Auctions