From the original mintage of 74,000 pieces, only a scant few 1930-S Saint Gaudens Double Eagle (Buy on eBay) coins managed to escape melting. Of the elusive issues of the series from 1929 to 1932, the 1930-S has come to be recognized as the rarest with an estimated 50 to 75 pieces known.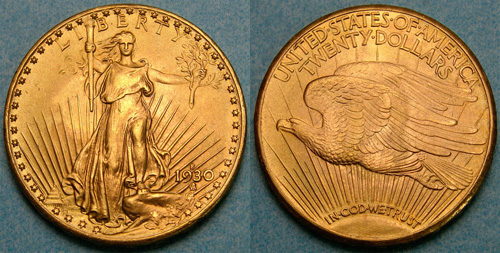 The combined population reports of PCGS and NGC show a total of 62 pieces graded, although this is no doubt inflated by resubmissions. The most frequently awarded grades are MS64 and MS65, and all but three pieces fall into other mint state grades. The distribution of grades has led some to conclude that the surviving specimens have been held by American coin collectors or dealers since their original issue, rather than escaping the melts within European hoards.
The highest grades awarded by PCGS and NGC are a few pieces graded MS66. The finest known specimen is believed to reside within the National Numismatic Collection of the Smithsonian Institution is estimated to grade MS68.
In July 2008, one of the 1930-S Saint Gaudens Double Eagles graded PCGS MS66 realized $253,000 at auction.
1930 Double Eagle Specifications
Designer: Augustus Saint Gaudens
Composition: 90% gold, 10% copper
Weight: 33.436 grams
Diameter: 34 mm
Mints: San Francisco
1930 Double Eagle Mintage
Image: Smithsonian Institution