The 1925 Saint Gaudens Double Eagle (Buy on eBay) shares a very similar story to the previous year. The coins were produced in abundance at three different mint facilities, with more than 10 million struck on a combined basis. For modern collectors, one of the issues remains readily available, while two of the issues are scarce as the result of large scale melting in the 1930's.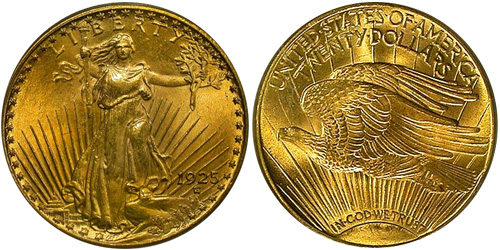 The Philadelphia Mint issue for this year owes its survival to the hoards which resided in European banks, which eventually found their way back to the United States. The major grading services have certified more than 90,000 pieces in grades extending through MS67.
Branch mint issues for this date have considerably lower survival rates. Very few examples were sent to European banks overseas to supplement the few pieces saved from melting in America. The 1925-D shows fewer than 700 pieces certified by either PCGS or NGC across all grade levels. One of three pieces to receive the highest grade of MS66 sold for $184,000 at an auction held in January 2007.
The 1925-S double eagle shows around the same number of total coins graded, although the number of survivors in higher mint state grades is drastically low. Fewer than 10 pieces have graded MS65 or higher. One of the two pieces graded MS67 realized $287,500 at auction in November 2005.

1925 Double Eagle Specifications
Designer: Augustus Saint Gaudens
Composition: 90% gold, 10% copper
Weight: 33.436 grams
Diameter: 34 mm
Mints: Philadelphia, Denver, San Francisco
1925 Double Eagle Mintages
1925: 2,831,750
1925-D: 2,938,500
1925-D: 3,776,500