The last issue before a three year gap in the series, the 1916-S Saint Gaudens Double Eagle (Buy on eBay) was at one time considered a more elusive coin. This changed after the discovery of a sizable hoard of coins which had all survived in mint state grades.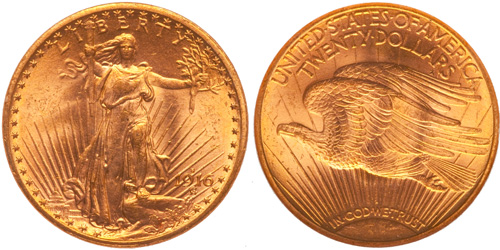 Roughly 8,500 of the 1916-S Double Eagles have been graded by either PCGS or NGC. The supply of MS65 graded examples is relatively plentiful with a fair amount of coins also available in MS66 grade. The highest graded examples are three coins graded MS 67 by NGC, while PCGS has not graded any coins higher than MS66.
The last time one of the 1916-S Double Eagles graded NGC MS 67 appeared at auction in January 2009, it realized a price of $26,450.00 including buyer's premium.
Saint Gaudens Gold Double Eagles were not struck at any other mint facilities during 1916. The next coins of the series would be produced in 1920.
1916 Double Eagle Specifications
Designer: Augustus Saint Gaudens
Composition: 90% gold, 10% copper
Weight: 33.436 grams
Diameter: 34 mm
Mints: San Francisco
1916 Double Eagle Mintages