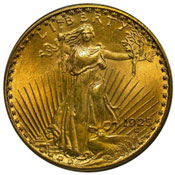 For most coin series, the mintages are an important indication of the rarity of particular issues. Coins with low figures are generally the scarcest and correspondingly carry the highest values. This is not the case for the Saint Gaudens Double Eagle series. Although the mintages are important to study, the number of surviving coins is the key determination of rarity. After the gold recall, many of the Gold Double Eagles minted during the 1920's were melted, forever reducing the number of coins in existence.
In terms of production, the lowest mintages include ultra high relief and high relief examples struck for 1907, and the 1908-S with a mintage for circulation of 22,000. The most significant examples of coins with high reported production, but low survival rates are the 1927-D and 1933 Saint Gaudens Double Eagles. Only a dozen or so examples of these dates are known to exist. For the latter date, only one piece has been deemed legal to own, although this may change.
The table below presents the reported mintages for the series. In 1908 the motto "In God We Trust" was added to the reverse of the coin. Mintages for examples with and without the motto are shown.
| Issue | Mintage |
| --- | --- |
| 1907 ultra high relief pattern | 19 to 22 known |
| 1907 high relief | 12,367 |
| 1907 arabic numerals | 361,667 |
| 1908 without motto | 4,271,551 |
| 1908-D without motto | 663,750 |
| 1908 with motto | 156,258 |
| 1908-D with motto | 349,500 |
| 1908-S | 22,000 |
| 1909 | 161,215 |
| 1909-D | 52,500 |
| 1909-S | 2,774,925 |
| 1910 | 482,000 |
| 1910-D | 429,000 |
| 1910-S | 2,128,250 |
| 1911 | 197,250 |
| 1911-D | 846,500 |
| 1911-S | 775,750 |
| 1912 | 149,750 |
| 1913 | 168,780 |
| 1913-D | 393,500 |
| 1913-S | 34,000 |
| 1914 | 95,250 |
| 1914-D | 453,000 |
| Issue | Mintage |
| --- | --- |
| 1914-S | 1,498,000 |
| 1915 | 152,000 |
| 1915-S | 567,500 |
| 1916-S | 796,000 |
| 1920 | 228,250 |
| 1920-S | 558,000 |
| 1921 | 528,500 |
| 1922 | 1,375,500 |
| 1922-S | 2,658,000 |
| 1923 | 566,000 |
| 1923-D | 1,702,250 |
| 1924 | 4,323,500 |
| 1924-D | 3,049,500 |
| 1924-S | 2,927,500 |
| 1925 | 2,831,750 |
| 1925-D | 2,938,500 |
| 1925-S | 3,776,500 |
| 1926 | 816,750 |
| 1926-D | 481,000 |
| 1926-S | 2,041,500 |
| 1927 | 2,946,750 |
| 1927-D | 180,000 |
| 1927-S | 3,107,000 |
| 1928 | 8,816,000 |
| 1929 | 1,779,750 |
| 1930-S | 74,000 |
| 1931 | 2,938,250 |
| 1931-D | 106,500 |
| 1932 | 1,101,750 |
| 1933 | 445,500 |