The 1914 Saint Gaudens Double Eagles (Buy on eBay) struck at Denver and San Francisco represent two of the more common surviving issues of the series even in higher grades, while the Philadelphia Mint issue for the same year proves move elusive, particularly in gem condition.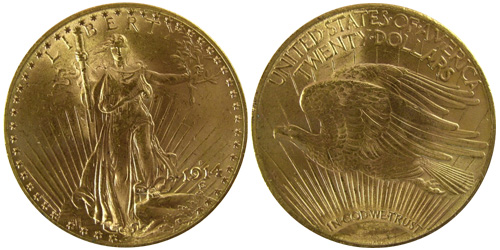 Collectively, PCGS and NGC have graded more than 12,000 of the 1914-D and more than 37,000 of the 1914-S Double Eagles. The distribution of grades fall mostly within the MS62 to MS64 range, although a plentiful number of pieces have been graded MS65, and to a lesser extent, MS66.
The Philadelphia issue had a lower mintage and has fewer surviving examples. Pieces graded MS65 can be elusive with about 60 pieces graded as such by the major services with a handful of pieces graded higher. Proof versions were also struck at the Philadelphia Mint this year, with a mintage of 70 pieces. These coins are highly prized by specialized collectors.

1914 Double Eagle Specifications
Designer: Augustus Saint Gaudens
Composition: 90% gold, 10% copper
Weight: 33.436 grams
Diameter: 34 mm
Mints: Philadelphia, Denver, San Francisco
1914 Double Eagle Mintages
1914: 92,250
1914-D: 453,000
1914-S: 1,498,000
1914 Proof: 70