Two of the more common issues of the series are the 1923 Saint Gaudens Double Eagle (Buy on eBay) coins struck at Philadelphia and Denver. While mintages are not the highest for the series, there were a significant number of survivors in overseas hoards to provide a plentiful selection for modern era collectors.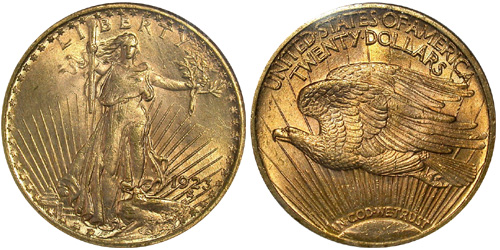 Of the two issues, the Philadelphia Mint issue has a higher number of survivors with more than 45,000 coins graded by PCGS or NGC. Although the issue is abundant and widely available in grades through MS64, coins graded MS65 and higher become more elusive. There are fewer than 500 pieces which have received this grade from the major services, with a mere three pieces graded higher in MS66.
The 1923-D Double Eagles are noted for their bold strikes and wonderful luster. Although a smaller number of coins have survived compared to the Philadelphia issue, these exist in higher grades and often boast exceptional appeal making them a favorite choice for type collectors. This issue is widely available even in grades up to MS66. More than 100 pieces have been graded MS67 with even a few examples graded MS68.

1923 Double Eagle Specifications
Designer: Augustus Saint Gaudens
Composition: 90% gold, 10% copper
Weight: 33.436 grams
Diameter: 34 mm
Mints: Philadelphia, Denver
1923 Double Eagle Mintages
1923: 566,000
1923-D: 1,702,250