The 1921 Saint Gaudens Double Eagle (Buy on eBay) is known as one of the rarities of the series. Struck only at the Philadelphia Mint with an original mintage of 528,500, there are very few surviving examples, particularly in higher grades. Virtually the entire mintage had been melted in the 1930's, and no large quantities of this issue have surfaced in overseas hoards or other sources.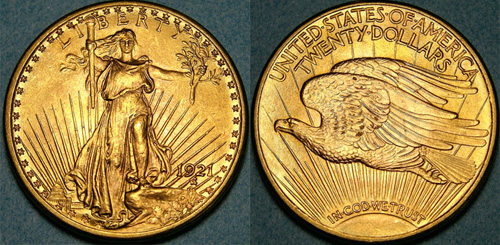 The example shown above is included within the Smithsonian Institution's National Numismatic Collection, obtained at the time of original issue. Another superb specimen resides within the collection of the American Numismatic Society. The highest graded examples in private hands are two coins graded PCGS MS66. One of these coins from the Crawford Collection, sold for an astounding $1,092,500 at an auction held in November 2005.
Attesting to the absolute rarity of the issue, PCGS and NGC have recorded only about 150 examples graded, which undoubtedly includes some resubmissions. The distribution of grades is split relatively evenly between AU examples and mint state examples.
Another even more significant rarity exists for this year that had been unknown to collectors until the summer of 2000 when Sotheby's offered a 1921 Proof Roman-Finish Saint Gaudens Double Eagle. Apparently, the Director the US Mint Raymond T. Baker had this coin struck for his nephew on the occasion of his birth. Previously, it was believed that the last proof double eagles had been struck in 1915. Since the initial discovery a second example of the special-striking proof surfaced in 2006 and sold at auction for $1,495,000.
1921 Double Eagle Specifications
Designer: Augustus Saint Gaudens
Composition: 90% gold, 10% copper
Weight: 33.436 grams
Diameter: 34 mm
Mints: Philadelphia
1921 Double Eagle Mintages
1921: 528,500
1921 Special Striking Proof: 2 known
Image: Smithsonian Institution