The $20 gold coin series reached its fifth year of release with the 1911 Saint Gaudens Double Eagle (Buy on eBay). By this time, the circulating gold denominations produced by the United States Mint had all undergone design changes. The double eagle and eagle carried designs by Augustus Saint Gaudens, while the quarter eagle and half eagle featured design by Boston sculptor Bela Lyon Pratt.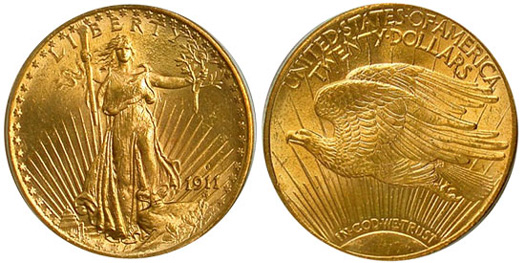 The 1911 double eagles struck at Philadelphia are the most conditionally challenging issue of the year. The coins are rarely encountered in grades MS65 and higher. Even the Smithsonian's example is only graded AU58. The finest known examples are a few graded MS67, one of which sold for $46,000 at auction in 2005.
On the other end of the spectrum, the 1911-D double eagle is particularly plentiful in higher grades with nearly 1,000 pieces graded MS66 by PCGS or NGC, and few dozen graded MS67. Along with the 1908 "no motto" issue, this is one of the most available coins from early in the series.
v
The double eagles struck at San Francisco this year are typically very attractive with sharp strikes and lustrous surfaces. The coins are readily encountered graded MS65, although fewer will be found graded MS66, and only a single example in MS67 exists.

1911 Double Eagle Specifications
Designer: Augustus Saint Gaudens
Composition: 90% gold, 10% copper
Weight: 33.436 grams
Diameter: 34 mm
Mints: Philadelphia, Denver, San Francisco
1911 Double Eagle Mintages
1911: 197,250
1911 Proof: 100
1911-D: 846,500
1911-S: 775,750