A significant drop in mintage occurred with the 1926 Saint Gaudens Double Eagle (Buy on eBay). Once again struck at three different mint facilities, but total production was around 3.3 million. This was about one third the level of the prior year, although the more important factor for present day collectors is the survival rate.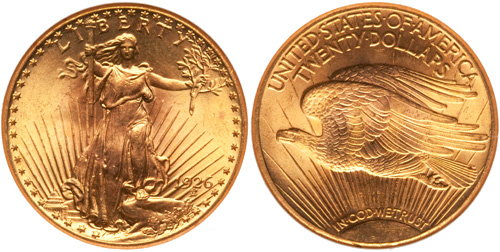 Similar to other issues of the series, the double eagles struck at Philadelphia have a high survival rate due to the larger numbers which were sent to European banks around the time of issues. Here, they would survive the mass melting that occurred in American during the 1930's, before eventually finding their way back to the US collector market decades later. This issue can be found with relative ease in grades through MS66, although only a small number of pieces have graded MS67.
The branch mint issues for this year are a different situation completely, as the gold coin melts took a heavier toll. The 1926-D shows fewer than 300 pieces certified by either PCGS or NGC. The highest graded are three MS65's and a single MS66, which sold for $345,000 at auction in November 2005. The situation would reach an extreme in the following year with the 1927-D.
The 1926-S double eagle is not as scarce as the Denver issue, but is difficult to find in grades MS65 and higher. An example graded PCGS MS66 recently sold for $69,000 at auction in January 2010.
1926 Double Eagle Specifications
Designer: Augustus Saint Gaudens
Composition: 90% gold, 10% copper
Weight: 33.436 grams
Diameter: 34 mm
Mints: Philadelphia, Denver, San Francisco
1926 Double Eagle Mintages
1926: 816,750
1926-D: 481,000
1926-D: 2,041,500