The 1913 Saint Gaudens Double Eagle (Buy on eBay) was struck at the Philadelphia, Denver, and San Francisco Mint facilities. The highest mintage occurred at the Denver Mint where 393,500 coins were struck. The lowest mintage was for the San Francisco Mint with a mere 34,000 pieces.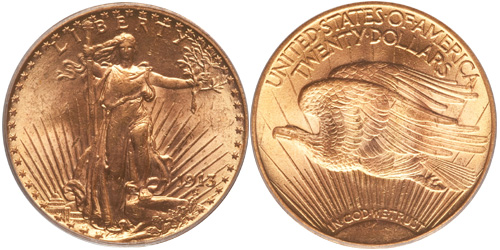 There were a mere 58 proof coins struck at the Philadelphia Mint. These were struck with a sand blast or mattte proof finish. When these early proofs make auction appearances, they generate strong interest and typically sell for $30,000 and upwards.
Similar to other issues of the era, the Philadelphia Mint business strike can be challenging and expensive to acquire in grades MS65 and higher. In general, the Denver Mint issues are encountered in better states of preservation with many mint state examples, although gems can be elusive.
Despite the low mintage of the 1913-S Double Eagle, the coins do not rank as one of the rarities of the series. This issue can be obtained for only a modest premium above other higher mintage coins in grades through MS64. However, in MS65 grades and higher this issue does represent a conditional rarity with fewer than 30 examples shown in the PCGS and NGC population reports.
1913 Double Eagle Specifications
Designer: Augustus Saint Gaudens
Composition: 90% gold, 10% copper
Weight: 33.436 grams
Diameter: 34 mm
Mints: Philadelphia, Denver, San Francisco
1913 Double Eagle Mintages
1913: 168,780
1913-D: 393,500
1913-S: 34,000
1913 Proof: 58