The 1927-D Saint Gaudens Double Eagle (Buy on eBay) has come to be recognized as one of the one of the major rarities of the 20th century. It also ranks as one of the rarest coins for the entire double eagle denomination. Despite the reported mintage of 180,000 pieces, virtually the entire amount was melted, leaving an estimated 12 surviving specimens.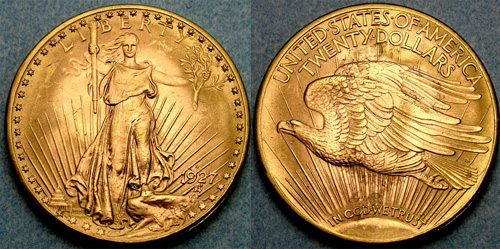 After the original production at the Denver Mint, the 1927-D Double Eagles were held in storage since the output from the Philadelphia Mint was more than sufficient to fulfill the needs for circulation. While the coins were held in storage, they were openly available to collectors who requested them and paid face value. However, few coins left the mint in this manner due to the relatively small number of active collectors and high face value of the denomination. In 1933, President Franklin D. Roosevelt would issue Executive Order 6102 recalling federal gold coinage. In the following years, the recalled gold as well as all gold coins held in government storage were melted, forever resetting the scale in terms of rarity for many issues.
Nearly all known examples of the 1927-D Saint-Gaudens Double Eagles have survived in uncirculated grades since the coins were never released into circulation in the typical manner. The single finest known example is Morse specimen graded PCGS MS-67, which last sold for $1,897,500 in 2005. The current auction record is held by an example graded PCGS MS-65+ which sold for $2,160,000 in 2020.
1927-D Double Eagle Specifications and Mintage
Designer: Augustus Saint Gaudens
Composition: 90% gold, 10% copper
Weight: 33.436 grams
Diameter: 34 mm
Mintage: 180,000 (estimated 12-15 still exist)
Image: Smithsonian Institution