The US Mint resumed striking the twenty dollar denomination after a gap of three years with the 1920 Saint Gaudens Double Eagle (Buy on eBay). The coins were produced at the Philadelphia and San Francisco Mint in reasonable quantities, however research suggests that these coins were retained for reserve funds and not intended for circulation. As a result, one of the issues represents a conditional rarity and the other represents an absolute rarity.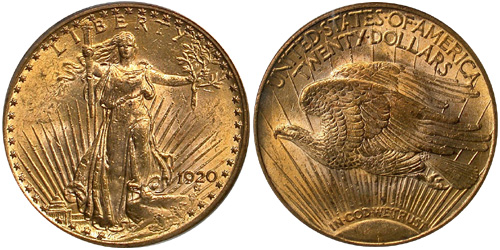 The 1920 Double Eagles struck at Philadelphia are available for collectors across grade levels from circulated to MS64, however only a scant few are available graded MS65 and none have graded higher. NGC has graded seven examples as gem, while PCGS has graded only one. The PCGS MS65 graded coin, originally from the Eliasberg collection, sold for $109,250 at auction in January 2007.
Representing one of the absolute rarities of the series, the 1920-S Saint Gaudens Double Eagle has very few surviving examples and commands a steep premium across all grade levels. On a combined basis, PCGS and NGC have only graded 167 pieces, which no doubt contains some duplicate submissions. Surprisingly, a few pieces graded MS66 have survived. One of these graded by PCGS and from the Eliasberg/Duckor collections sold for $517,500 at auction in November 2005.
1920 Double Eagle Specifications
Designer: Augustus Saint Gaudens
Composition: 90% gold, 10% copper
Weight: 33.436 grams
Diameter: 34 mm
Mints: Philadelphia, San Francisco
1920 Double Eagle Mintages
1920: 228,250
1920-S: 558,000