The 1927 Saint Gaudens Double Eagle (Buy on eBay) was struck at the Philadelphia, Denver, and San Francisco Mints. Featuring Augustus Saint Gaudens's depiction of Liberty holding an olive branch and lit torch, coins of this series are noted for their beauty and often their rarity. Of the three issues for this year, one is noted as extremely common, another is considered scarce, and the remaining coin is an extreme rarity.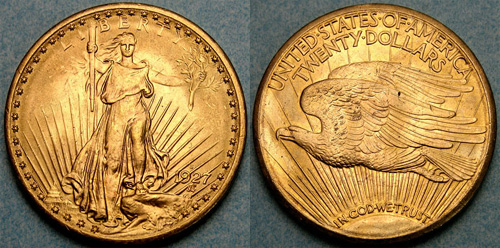 The 1927 Double Eagles struck at the Philadelphia Mint managed to survive the mass melting in relatively large quantities compared to other years. In fact, it ranks as the second most common issue of the series with more than 260,000 pieces graded by PCGS or NGC. A significant portion of these coins have received gem grades or higher. Population reports show more the lofty grade of MS67 awarded more than 100 times.
Branch mint issues for this year are a different story. The 1927-S is scarce despite its high original mintage. The major services have reported grading fewer than 250 pieces graded in total, with most encountered in lower mint state grades. One of the finest known examples graded PCGS MS67 sold for $345,000 at auction in 2005.
The 1927-D Saint Gaudens Double Eagle is worthy of its own discussion, as one of the greatest rarities of the 20th century.

1927 Double Eagle Specifications
Designer: Augustus Saint Gaudens
Composition: 90% gold, 10% copper
Weight: 33.436 grams
Diameter: 34 mm
Mints: Philadelphia, Denver, San Francisco
1927 Double Eagle Mintages
1927: 2,946,750
1927-D: 180,000
1927-D: 3,107,000
Image: Smithsonian Institution