The 1909 Saint Gaudens Double Eagle (Buy on eBay) was struck at three different mint facilities. The mintages range from one of the lowest of the series for the Denver Mint issue to nearly 3 million for the San Francisco issue. At the Philadelphia Mint an interesting variety was created, which represents the only overdate of the series.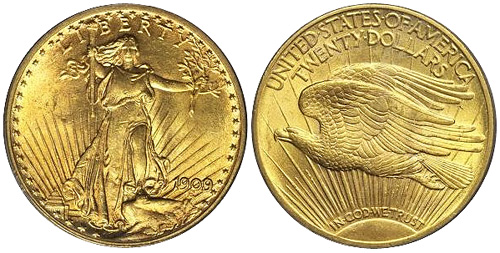 An overdate was created at the Philadelphia Mint when an engraver struck a 1908-dated die with a 1909 hub. The resulting coins clearly show the "8" below the "9" in the last digit of the date. The estimated mintage of the 1909/8 double eagle is 80,000 pieces, which accounts for about half of the Philadelphia Mint's production. The variety remains a popular one with collectors and can be difficult to acquire in gem grade. Just a handful of pieces have graded MS66 by the major grading services.
The 1909-D Saint Gaudens Double Eagle had a final mintage of 52,500 pieces, representing the lowest output from the Denver Mint for the series. Fortunately, a portion of this mintage resided overseas to escape melting. The issue carries a premium in uncirculated grades.
Despite its large mintage of 2,774,925 pieces, the San Francisco Mint issue is difficult to find in gem grade or higher. The major grading services show just 16 pieces graded MS66 and a single example graded MS67 by PCGS. The MS66 graded examples typically sell for prices in excess of $20,000.
1909 Double Eagle Specifications
Designer: Augustus Saint Gaudens
Composition: 90% gold, 10% copper
Weight: 33.436 grams
Diameter: 34 mm
Mints: Philadelphia, Denver, San Francisco
1909 Double Eagle Mintages
1909: 161,282 (includes "9 over 8" variety)
1909 Proof: 67
1909-D: 52,500
1909-S: 2,774,925