Similar to the prior year, the 1910 Saint Gaudens Double Eagle (Buy on eBay) had the greatest number of coins struck at the San Francisco Mint, while the coin was produced in smaller numbers at the Philadelphia and Denver Mints.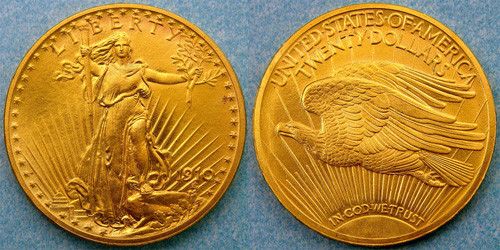 This was the third year of the series for the $20 gold coins featuring a design by Augustus Saint Gaudens. The confident and beautiful figure of Liberty appears on the obverse of each coin carrying a lit torch and olive branch. She appears in full figure, striding confidently forward. The reverse features a young eagle flying majestically against the sun.
Like other years of the series from 1908 to 1915, a small number of proof double eagles were struck at the Philadelphia Mint. This year's coins will be encountered with a Roman or satin finish. Total proof coin mintage is listed as 167, which is the highest for a proof issue.
The finest known examples are a handful of 1909 Double Eagles from Philadelphia graded MS66 by the major grading services, three 1910-D coins graded MS67, and a lone 1910-S graded MS68 by PCGS.
1910 Double Eagle Specifications
Designer: Augustus Saint Gaudens
Composition: 90% gold, 10% copper
Weight: 33.436 grams
Diameter: 34 mm
Mints: Philadelphia, Denver, San Francisco
1910 Double Eagle Mintages
1910: 482,000
1910 Proof: 167
1910-D: 429,000
1910-S: 2,128,250
Image: Smithsonian Institution