Production of the 1924 Saint Gaudens Double Eagle (Buy on eBay) took place at three different mint facilities, Philadelphia, Denver, and San Francisco. Across all three mints, there were more than 10 million of the twenty dollar gold pieces struck, although subsequent melting had a great impact on the availability of two of the issues.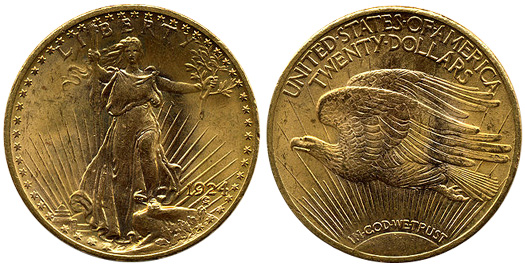 The Philadelphia Mint double eagle for this year ranks as the most abundant surviving issue of the series by a margin of more than two to one over the next most abundant issue from 1927. With more than 500,000 of the 1924 double eagles certified by the major grading services, collectors should have no problem finding the right coin for their collection. Coins graded MS65 and MS66 are in abundance, with MS67 pieces a bit more difficult. The highest graded examples are a few pieces graded MS68, one of which sold for $63,250 at an auction held in January 2006.
In contrast, the 1924-D and 1924-S Double Eagles survive in much lower numbers with about 1,000 examples certified for each issue at the major grading services. Each of these coins are also exceedingly difficult to find in gem grade or higher. An exceptional example of the 1924-D graded PCGS MS65 with CAC verification sold for $138,000 at auction in January 2010. An example of the 1924-S graded PCGS MS65 sold for $97,750 in November 2005, although coins receiving the same grade from NGC have subsequently sold for around $30,000.
1924 Double Eagle Specifications
Designer: Augustus Saint Gaudens
Composition: 90% gold, 10% copper
Weight: 33.436 grams
Diameter: 34 mm
Mints: Philadelphia, Denver, San Francisco
1924 Double Eagle Mintages
1924: 4,323,500
1924-D: 3,049,500
1924-S: 2,927,500